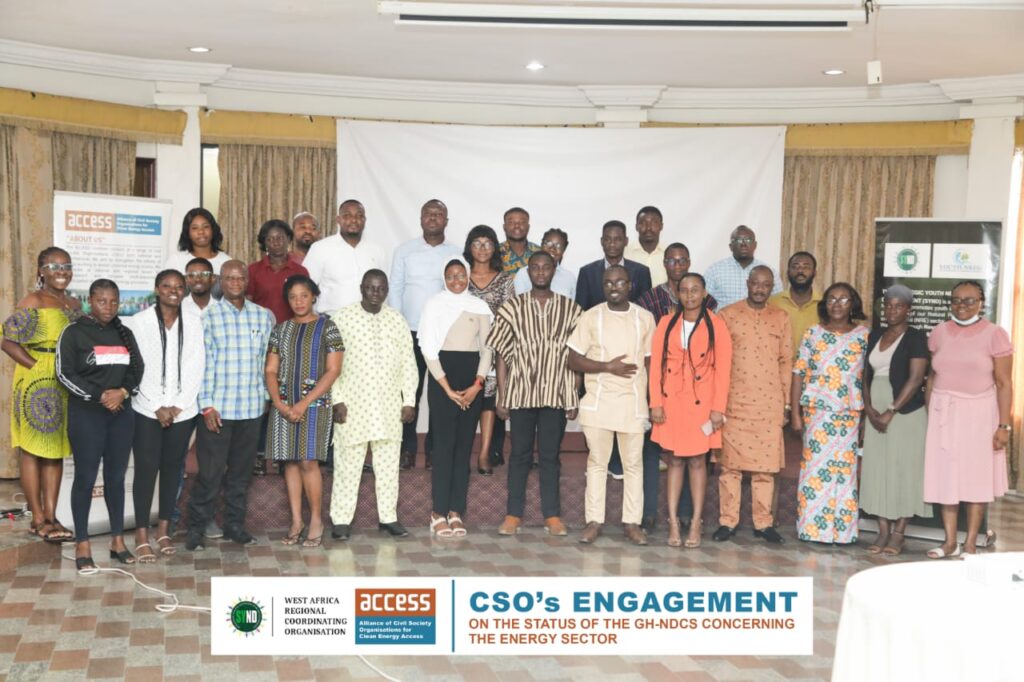 The Government of Ghana (GoG) in collaboration with the Korean Government would soon distribute improved Clean Cook stoves to various communities across the country in exchange of carbon credit.
The distribution of over 500,000 improved Clean Cook Stoves is an agreement in relation to climate action plan to cut emissions, and adapt to climate impact in exchange of carbon credit in the country.
The development is a comprehensive strategy with support from the World Bank to help address issues associated with the Clean Cook Stove Project.
This was made at a CSO's Engagement on the Status of the GH-NDCS concerning the Energy Sector organized by Alliance of Civil Society Organisations for Clean Energy Access (ACCESS) and hosted by its West Africa Regional Co-ordinating Organisation, Strategic Youth Network for Development (SYND) in Accra, Ghana.
Speaking at the Workshop, Mr. Knollis Delle, the Assistant Program Coordinator at the Ministry of Energy (MoE) disclosed that, the project, distribution of Clean Cook Stoves to various communities across the country is to discourage the production of charcoal since such action is a climate.
He further pointed out that, the distribution of the clean stove would be extended all over the country and is an initiative the government have taken to help those using charcoal not only in the rural areas but urban dwellers as well.
"The project is not only limited to rural areas that; some urban areas would be beneficial of the project" Mr. Delle emphasized
Adding that, "there are several phases of the project revealing that, a new phase would soon be added to the project, that would target urban centres."
The meeting was organized by Access Coalition West Africa, which gathered all CSO in Accra, to discuss the status of Ghana's Nationally Determined Contributors (Gh-NDCs) with respect to the Energy Sector.
According to him, "Ghana's future with regard to greenhouse gas and climate change reduction looked bright and better".
Stressing that government has put in place a number of intervention programmes to ensure its safety and success
" The MoE is committed in ensuring that, the country realizes its dream of mitigating greenhouse gas emissions by involving the youth, Civil Society Organisations (CSOs) and other relevant stakeholders", he acclaimed.
On his part, Mr. Daniel Lamptey, a Representative from the Environment Protection Agency (EPA), in his presentation disclosed that currently, most organisations have developed and presented a number of climate change action to government.
"This is part of article two (2) of the Paris agreement to all country to commit to specific national climate actions to achieve global warming below two degrees by the mid-century and beyond.
Expressing that it is key to Paris agreement and the achievement of those long-term goal, hence will reduce national emissions and adopt the impact of climate change.
Though mist of these projects will be updated by the government led sectors, it comes with it iwn challenges due to stakeholder consultations which is very expensive.
Additionally he said soliciting sectoral inputs on the climate actions are very slow and difficult to manage,therefore the engagement of high level decision makers is low.
For him, the Executive Coordinator of the Strategic Youth Network for Development (SYND), Mr Chibeze Ezekiel in his address stated that, it is prevalent for Civil Society Organisations (CSOs) and citizens in countries that havevsigned up to the Paris Agreement to know the plans and measures put in place to help tackle climate change in line with the NDCs.
He also explained that the government alone can't help to mitigate climate change but a collective responsibility is need.
He therefore challenged CSOs to provide reports on its activities to reflect on its contributions towards the mitigation process towards climate change.
The Gh-NDCs is part of the Paris Agreement climate action plan to cut emissions, and adapt to climate impact. Each party or country is required to establish an NDCs and update it every five years.
Source: Jamila Wahab (thenewindependentonline.com)